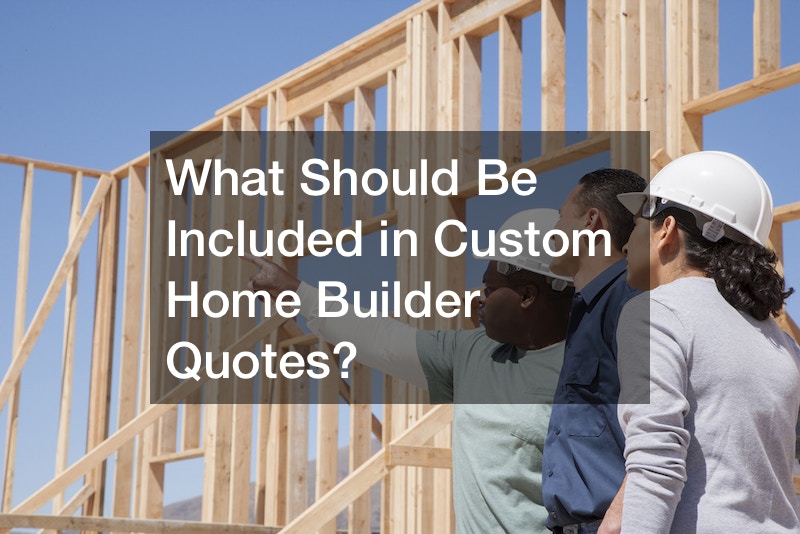 What Should Be Included in Custom Home Builder Quotes?
Are you planning to build a home personalized according to your taste and preferences? Well, here is a fact that will interest you. According to Forbes, 86% of major construction projects go over budget! Otherwise, you risk running into financial headwinds or stalling your project. Therefore, you must get accurate custom home builder quotes to avoid falling into this trap. Keep reading to understand what must be included in builder quotes and more. Let's start!
Understanding the Basics: What Is a Custom Home Builder Quote?
Before jumping into what custom home builder quotes contain, it's good to highlight a typical misconception: Quotes and estimates are different items. Confusing, right?
An estimate is typically a 'quick fix' quote. It's more of an educated guess of how much it will cost to build your custom home. Typically, a home builder will provide an estimate on the fly. It's important to understand that it isn't a formal commitment to a completion date or figures.
On the other hand, a quote has more details. It digs deeper into your project, and due to its detail-oriented nature, it may take a couple of days to complete. A quote covers everything you need to know about building your custom home, including interior building products services, and costs to the last inspection. A quote accounts for labor.
A detailed quote is the foundation of a successful custom home-building project. It clarifies the scope, specifications, and timeline of the project. Additionally, it works to minimize unfortunate disagreements and payment details.
The Importance of Transparency in Home Building Quotes
Let's agree. When building a home, your primary concern is the project's overall cost and, more so, cost clarity. You want to know the cost of every purchase, from nails to hardwood flooring supplies; every expenditure must be in black and white.
An honest building quote will give a clear breakdown of your building project, which allows you to allocate funds correctly and make calculated financial decisions. Review several custom home builder quotes before settling on a builder. With transparency, you can compare quotes from different builders accurately to help you choose a perfect builder for the job.
A transparent quote will create trust between you and your builder. When the quote details everything, it minimizes any chance of hidden costs and misunderstandings. For this reason, it will heighten trust between you and the builder.
Transparency in building quotes is the backbone of effective project management. When the quote captures everything from the beginning to the end of construction, it becomes easy to manage projects, set targets, and address unforeseen challenges. Clarity also heightens accountability and quality assurance. Typically, a transparent quote will hold your builder accountable for quality assured and sticking to the budget. It will also allow you to check the quality of the material supplied and the level of craftsmanship to ensure that the project is worth the investment.
Comprehensive Cost Breakdown: A Key Component of Your Quote
All custom home builder quotes must have a comprehensive breakdown. Typically, this document will break down the project's cumulative cost into individual components. This segment allows you to see in detail where your money is going.
The breakdown includes materials, permits, contingency, and labor costs. Understanding individual prices will help you get a near-accurate of the project's total cost, avoiding unforeseen expenses down the line. So when your custom home builder hands you a quote, be keen on the comprehensive breakdown. It carries the weighty part of any builder's quotes.
Builders will agree that labor costs take the lion's share on any construction project and will typically vary regarding the nature and complexity of the work. The cost of materials comes next. However, it varies depending on your home's design features and the materials' quality.
Note that your construction must comply with building codes and regulations. For this reason, your custom home builder must include all the permit costs in your quote. Permits aren't only necessary in construction but are essential proof that the construction meets the required standards by the relevant authority. Lastly, your builder must include a contingency fund on your quote. Typically, the fund covers unexpected costs that may prop up during the project.
Materials and Finishes: Defining Your Home's Look and Quality
Let's face it. Your construction project requires you to make many decisions that will determine the outcome of your project. Chief among these is selecting quality materials, such as concrete and bricks, and choosing qualified artisans like custom metal fabricators or qualified interior designers.
Your choices will greatly impact the outcome of your custom home construction. A wrong move will negatively impact the building's aesthetics, durability, functionality, and cost. For this reason, the first essential part of your home-building process is selecting qualified artisans and good-quality building materials.
First, you must determine what your building plans require to select the appropriate materials. To do this correctly, you must consider the engineering requirements, building codes, and material performance to narrow your selection. Some states or municipalities typically have particular building codes that impact materials selection. Depending on your residence, some codes could require building materials to bear heavy floods, wind, or earthquakes. Although such requirements differ with location, your custom builder must be able to advise you through this process.
Material selection and finishes will greatly determine your home's aesthetics. Trendy finishes will make your home feel new, fresh, and exciting, and classic finishes will make it feel elegant and timeless. For this reason, gear your material selection and finishing according to your style and fashion.
Contingency Funds: Preparing for the Unexpected
Custom home builder quotes must have contingency funds to cover unexpected costs during the building process. For instance, you may encounter unforeseen site conditions, such as groundwater or unstable soil, where remediation may incur extra costs, design errors or changes, equipment breakdown, and material shortages. Having a contingency fund makes it easy to cater to such sudden expenses.
Most builders understand the benefits of a contingency fund. According to Statista, the global contingency fund in construction projects of all sizes typically ranges between 5% and 10%. It's more of a risk management plan catering to unbudgeted yet necessary expenses. There are two major types of construction contingency funds: Owner contingency and contractor contingency.
An owner contingency is any amount set aside for modifications or additions to the scope of work. Usually, the owner-funded contingency pays for any changes not included in the initial bid – for instance, a sudden need for unbudgeted items, such as a custom glass shower enclosure. A contractor contingency is the amount set aside to account for errors caused by the contractor.
Inclusions vs. Upgrades: Making Sense of Your Options
Firstly, you must understand the difference between inclusions and upgrades. Mostly, you'll find that what a section of custom home builder quotes sees as inclusions, different builders may consider upgrades. For this reason, to make sense of your options, you must inquire about builders' inclusions and upgrades.
Inclusions are the standard features your builder will include in the base price of your home. You must know that inclusions vary from builder to builder and typically include basic materials, fixtures, and finishes your builder will provide in their standard package. Examples of inclusions include standard appliances, basic flooring, and standard bathroom fixtures.
On the other hand, upgrades are optional modifications allowing you to customize your home according to your tastes and preferences, such as a custom closet or cabinet. Typically, your builder will charge you extra for such. Upgrades will range from simple modifications for cosmetic purposes to heavy functional and structural improvements. Examples of upgrades include upgraded countertops, high-end appliances, high-end light fixtures, and additional rooms.
The cost for upgrades adds quickly. According to Forbes, the average home additions cost a hefty $46,000! That's huge! Therefore, you must consider the necessary upgrades to avoid overrunning your budget.
Project Timeline: When Will Your Custom Home Be Ready?
The project timeline is among the most essential components in custom home builder quotes. It gives you a clear picture of your construction project's time from the beginning to the end. Also, you'll be able to see the complete project work broken down into smaller stages within a particular timeframe. A project timeline will make the entire construction process structured and manageable. Time-bound project enables you to check and measure your building progress as the construction is ongoing.
Project timelines are typically affected by changes in the scope, schedule delays, labor shortages, and unforeseen delays. Hence, as the project owner, you must communicate your expectations clearly to your builder. Also, be specific. Tell them when you expect your wooden porch and need to see your bathroom done.
Communicate your overall expectations on when your custom home must be ready. Ensure that your agreement is legally binding. When your builder abandons or fails to complete work, you'll be in a vantage position to sue them for breach of contract.
Labor and Construction Costs: Who Will Be Building Your Home
It's mindboggling that according to the Washington Post, construction costs have risen by a significant 24% since 2004! What's more shocking is that construction workers' wages are growing steadily. According to Forbes, they grow by 2.5% annually. For this reason, you must know who's building your home, how much they charge, and their level of expertise in the field.
To give you a perspective, your home building project will involve engineers, designers, architects, contractors, and subcontractors. Those at the top of the pyramid don't come cheap. The secret is to know their charges beforehand and ensure they fit your budget.
Essentially, labor and construction take the largest costs of any building project. Hence, you must ensure that the custom home builder quotes presented by builders exhaustively detail these costs. For this reason, you must research who's building your home. Ask yourself how much the pool builders charge for their service. Are there cheaper fence builders in town? Such leading questions will help you a lot in making critical decisions.
Typically, when your builder calculates labor costs, they often include paid time off, recruitment and training costs, payroll costs (including taxes), fraud and other forms of time theft, and employee and contractor compensation. On the other hand, construction and material costs include amounts paid for building materials. Often, the cost details procurement, importation, and the transportation of building materials to the job site.
While working on a construction project, builders typically involve other skills and talents to deliver your expectations. For instance, a builder will need the services of a project manager to oversee the whole construction process. Also, they need a site supervisor to coordinate materials and labor, carpenters for the actual construction process, masons to work with stones and bricks, roofers for roofing installations, and electricians to handle wiring and other installations of electrical systems.
Home builders warranty
Let's agree. All custom home builder quotes must have a home builder's warranty. Any competent builder will want to prove their professionalism by guaranteeing their work. Typically, a builder warranty will cover physical damage that may occur onsite and the major structural elements of your home. Also, the warranty will cover labor and materials such as tile, doors, and windows. The coverage also includes plumbing and electrical systems.
Ensure you check the warranty coverage period. Some builders' cover lasts less than three years, while others provide structural defect coverage for up to ten years. Note that builder warranty plans give different coverage. Therefore, before setting on one, review what's covered in their guarantee plan and what's not.
If you're planning to work on your home project, asking builders for custom home builder quotes is important. If you can, don't settle for estimates. They aren't detailed enough to give you sufficient building information to make critical decisions. Always ask for a builder quote – it's accurate and well-detailed, with useful information such as project timeline, warranty arrangements, labor and construction costs, contingency funds, and inclusions and upgrades. Need to know more? Visit our site for more building information.